When sending in enrollment fees, please make all checks and money orders out to "SACRED GROVE CHURCH."
There are TWO forms required for enrollment: the CSEF and the Registration form.
Be sure to fill out and sign both forms properly! There are TWO places for your signature on the CSEF, and ONE place on the Registration Form. If *all three* of these sections are not signed, your forms and fees will be returned to you for your signature. You will not be considered officially enrolled until both forms have been properly signed and submitted along with the full fees.
BE SURE TO SIGN BOTH SECTION 1 AND SECTION III OF THE CSEF! See example below: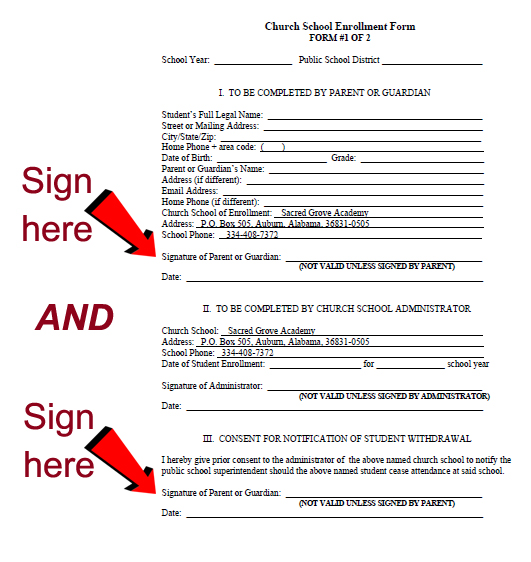 IMPORTANT NOTES:
If you are enrolling after your regular school year has begun, do NOT withdraw your child from his/her current school until you receive confirmation from us that you are enrolled with Sacred Grove! It generally takes one-two weeks for us to receive your paperwork and do all the processing and for the school board to then receive the form in the mail, but we cannot control the speed of the US Mail. We are not responsible for any truancy charges you may be faced with if you withdraw your child from his/her current school too soon. If you have an emergency situation, please contact us first, so that we will be aware that you are sending an enrollment.
During the school year we may only check the PO box once a week.
Do NOT send certified mail! This has to be picked up during working hours, which is not always possible, and will cause your paperwork to be greatly delayed!
After enrollment, you will be mailed a copy of the signed Church School Enrollment Form (CSEF). DO NOT LOSE THIS! You may need this for driver's licenses, proof of enrollment, and more. If you lose it and need a replacement, the fee is $10.
Pay for replacement CSEF
FORM #1: CSEF
Church School Enrollment Form (PDF)
Church School Enrollment Form (Word)
(many thanks to AICSA - Alabama Independent Church School Association!)
FORM #2: Registration
Registration Form (PDF)
Registration Form (Word)
NOTE: You will need Adobe Acrobat Reader to open the PDF forms. Click on the icon below to download a free copy of Adobe Acrobat Reader:


<! end of main div >